Hi!
Another new segment from me, I guess? I try to make my blog as versatile and diverse as possible, which brings me to an inevitable thing as checking out artists full discographies from time to time.
As someone who's multifandom, discovering new artists is not a new thing. Sometimes people just listen to a couple of songs, sometimes they take their time to check out full discographies, and if I were to describe myself, I'd lie somewhere in between. My criteria for choosing an artist for full-scale check is pretty simple: I need to have at least 5 tracks on my playlist that I jam to constantly without break (trust me, 5 tracks per artist is already considered a lot when you're multifandom).
So in episode 1 of Going through I'll be checking out SEVENTEEN's full discography!
---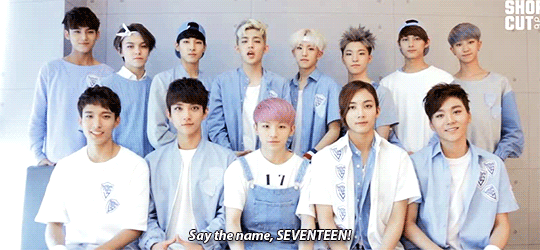 Before I decided to check out SEVENTEEN's full discography, the only songs from them I had on my playlist were Very Nice and Mansae, all thanks to Produce 101 cover missions and Classical Musicians React videos; also most recently there were Clap and Fast Pace added as well, and I was hoping for digital release of Heaven that is a collaboration with NU'EST W for MAMA 2017.
After I spent 3 days to listen to the full discography my Apple Music playlist has expanded with 22 more songs, which I consider as a pretty much significant number. Although I will still need more time to get used to those songs I saved on my playlist, I've figured out some things that I really enjoyed about SEVENTEEN discography:
I loved more than half – I think? – of their ballad songs, including obvious fan songs, which I'm not usually fond of unless I'm involved in the fandom. That's actually unusual from me, because, despite my respect for ballad genre, I mostly seek for songs I can listen to while driving.
They have a pleasingly nice diversity of dance tracks that are not straight into your face in terms of the sound.
I'm actually surprised at myself enjoying almost every single hip-hop unit track (maybe only except Trauma). I think the main factor for this was that their instrumentals weren't heavy that could distract you from focusing on the rapping.
So here are the screenshots of songs I added to my Apple Music after listening to their full discography:
ℂ𝕠𝕟𝕔𝕝𝕦𝕤𝕚𝕠𝕟:
I will definitely continue following SEVENTEEN's music from now on, but I think I will be on status of a casual fan with chosen biases (S.Coups and Jun (also Jeonghan and Joshua), you're at fault), as I try to find time to watch some of their variety shows (specifically One Fine Day since many Carats suggested it). Let's see how it progresses with time.
Thanks for reading!