I probably should schedule the 아주 작은 Review releases, for instance, once in two weeks: perfectly enough to cover up 4 comebacks/debuts in case I don't find those worthy of talking about in a full review. But I also find it a bit easier for me to write multiple reviews in one post because it takes less time to draft 1 post compared to 4 separate.
Anyways, in this edition I'll be talking about BoA (again, yes), CLC, VROMANCE and SF9!
---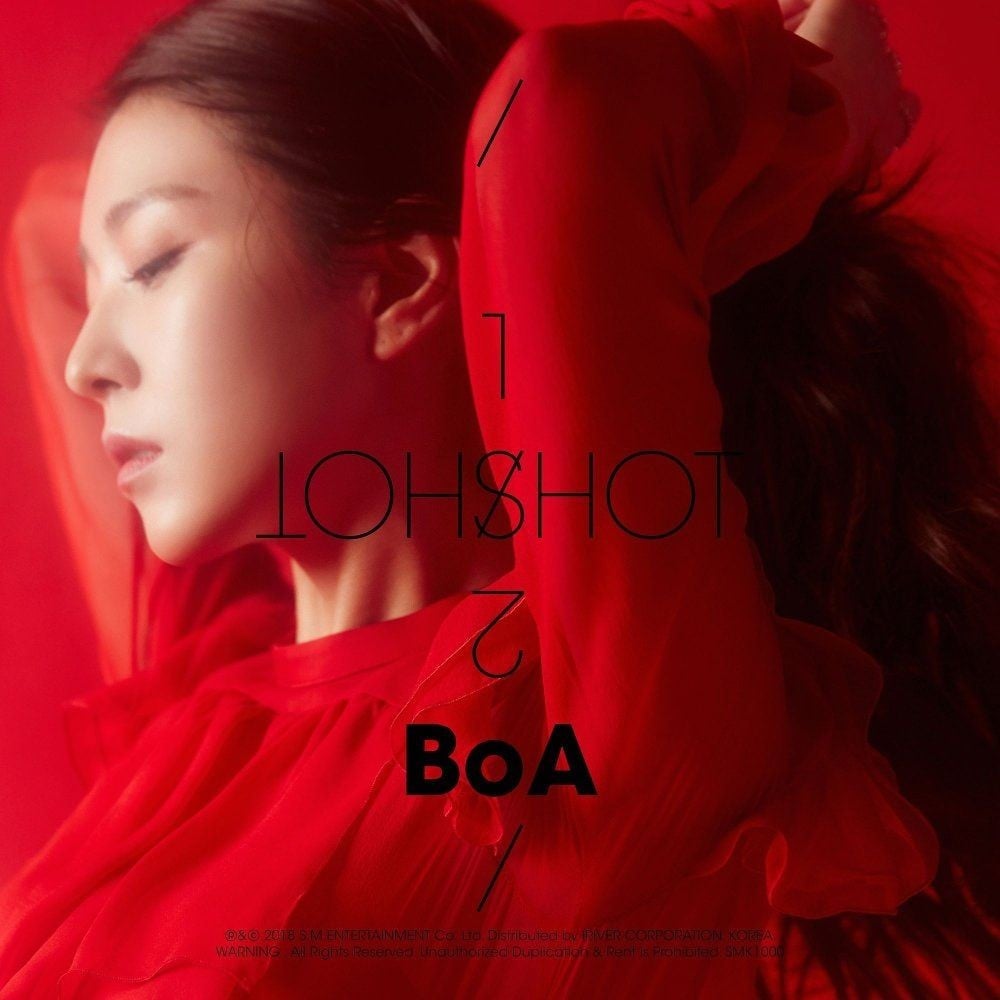 BoA – One Shot, Two Shot
Release date: February 20, 2018
What's interesting about it:
Although not the strongest track in this mini album (I mean, a whole CAMO exists there!), One Shot, Two Shot perfectly portrays BoA's wish to keep up with current K-pop music trends, naming EDM, but still adding her own flavor and trademark dance-oriented style. There's a base of trappy synth sound, wrapped in something that remotely resembles electro swing; for me personally this song makes a little homage to 2015's kind of trendy EDM music (clearest examples: f(x)'s 4 Walls and SHINee's View). BoA's one of the undeniable queens of performances, but I wish she used this song as a pre-release track, and gave us Korean version of Jazzclub as a title one.
𝓡𝓪𝓽𝓲𝓷𝓰 – 8 out of 10
---
CLC – Black Dress
Release date: February 22, 2018
What's interesting about it:
I seriously had a hard time figuring out whether it's their best title track so far or not. Eventually I decided that no, somehow it didn't live up to the expectations I had when they announced another girl crush concept. I loved Hobgoblin, and I like how this girl crush concept is different from their 2017 version, but… but that tropical house + heavy EDM mix are getting too much on my ears. I loved the grunge in their visual sequence, I wish the song itself went the similar way to perfectly compliment the aesthetics of the music video. And yes, there are better tracks on that mini album.
𝓡𝓪𝓽𝓲𝓷𝓰 – 7 out of 10
---
VROMANCE – Star
Release date: February 21, 2018
What's interesting about it:
VROMANCE surprised me again. They slayed me again with their music diversity, combined with their God-like vocals, and oh my god, can we talk about the aesthetics of the music video??? The modern dance??? The RnB sound of the song??? It's on so many levels beautiful, I guess this song is gonna be stuck in my head for a while, and I won't get tired of it. Also, it's gonna be one of the perfect videos to learn the dance from? The choreography is just so emotional, ughhh. I love it. I love every single bit of it.
𝓡𝓪𝓽𝓲𝓷𝓰 – 10 out of 10
---
SF9 – Mamma Mia!
Release date: February 26, 2018
What's interesting about it:
I've first heard of SF9 only from their previous song O Sole Mio, which is one of my diversity k-pop jams, and I'm very pleased to hear this new song and realize that they keep experimenting with music styles! Mamma Mia! makes me think back of another FNC artist that is N.Flying, whose recent sound is very similar to this one (The Real, Hot Potato for reference), so I would dare to say that this SF9 track is what N.Flying could've released if they were a classic-made idol group instead of instrumental band. But I'm super enjoying this song, it's just so happy and uplifting, I especially love that "oooh-woo-oooooh" part after the chorus!
𝓡𝓪𝓽𝓲𝓷𝓰 – 10 out of 10