I've been away from social media for long enough to lose my initial focus when it comes to wrapping my thoughts in blog posts, so please excuse me the slow pace of updates. I've been also taking a break from stan Twitter because sometimes it gets too toxic, you need to refresh yourself, so please excuse me the lack of content on my personal account.
Anyways, this is already 19th edition of 아주 작은 Review segment, and the more I do this, the more I feel relieved that I can still cover up majority of new releases without pressuring myself onto writing a full-scale posts each time. So today I'm gonna talk about new releases from BOL4 (Bolbbalgan4), The East Light, Pristin V, and AOA.
---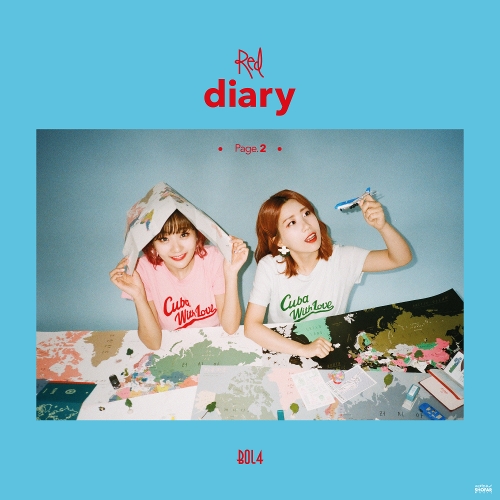 BOL4 – Travel / Starlight
Release date: May 24, 2018
What's interesting about these songs:
I rarely do double side track mini reviews, but I felt that if I only talked about Starlight, it wouldn't be much fair. But you already got my point that I prefer it over Travel. While Travel definitely suits the upcoming summer season more, my choice goes to more mellow sounding Starlight. But okay, here's the thing: no matter how good BOL4 songs usually are, I just can't bring myself to like Ahn Jiyoung's vocals. Something in her voice just doesn't click with me. Hence why I would usually skip everything BOL4, but out of curiosity I decided to check this one. And because Ahn Jiyoung has a specific vocal tone, I found Starlight more charming to me than more public-friendly Travel, although I have to say, both songs are good.
𝓡𝓪𝓽𝓲𝓷𝓰 – 7 out of 10 (Travel); 8 out of 10 (Starlight)
---
The East Light – Love Flutters
Release date: May 24, 2018
What's interesting about this song:
Well, hellooooo another summer vibe song. The instrumentals went more mature-sounding, but the boys are still in the middle of their puberty days, so as much as I adore their current vocal tones, I wonder if by the end of the puberty it gets… cracked. Not joking: just imagine their future releases with matured voices. But back to the song. Like I mentioned, it's very summer-y, but, honestly, not very memorable or catchy. It's good when you just want to lie down and chill, which is… not who I personally am, so this comeback is, unfortunately, another miss for me.
𝓡𝓪𝓽𝓲𝓷𝓰 – 6 out of 10
---
Pristin V – Get It
Release date: May 28, 2018
What's interesting about this song:
Seems like everyone's loving this release. Except for me. I gave this song exactly three listens. And I still don't feel it. It's very generic sounding for me. The intro was amazing, but the second it transitioned into first verse, I was heavily disappointed. The pre-chorus was somewhat acceptable, but the chorus just eventually ruined the remains of my anticipations towards the song. The only best part of the song was the bridge before Nayoung's rap. For me, it doesn't showcase the full power of PRISTIN's abilities, and relying too much on a visual concept is not the best way to compensate the lack of it-factor in this release.
𝓡𝓪𝓽𝓲𝓷𝓰 – 4 out of 10
---
AOA – Bingle Bangle
Release date: May 28, 2018
What's interesting about this song:
Oh well, welcome back, AOA! I was really wondering what's gonna happen to their sound after the departure of Choa, and seems like they didn't disappoint me! I feel like if FNC plays the cards right, AOA can become the next summer queens like once SISTAR were. I'm totally in love with this song, and this seamless mix of freshly sexiness and dorkness seems to work really well for AOA. Because personally, I never was into their previous stuff like Heart Attack or Good Luck. Let's see what happens next!
𝓡𝓪𝓽𝓲𝓷𝓰 – 9 out of 10